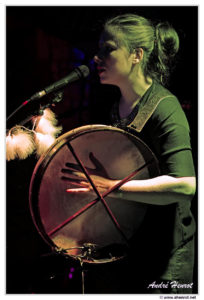 27
May
2017
Horten
Details
Time : 16h00
Venue : Stallen
Address : Teatergata 2
Zip : 3181

Phie @ Stallen Galleri & cafe



Phie was born in the north of France and lived for 10 years in
Paris before going to live in Norway.
She leads you into a world of pop-folk-blues sounds, both rhythmic and smooth,
punctuated from time to time by several more percussive blues rock-style songs.

Phie began writing at a very young age and accompanies herself on the piano
and the guitar when she composes.

On stage she sings while playing the drums releasing high energy waves, then,
eases up in an acoustic passage that lets her emotions and feelings
flow before returning to her drums to end this project on a highly
colourful note rich in sounds and sensations.